TOURISME D'AFFAIRES ORLEANS
About
In a welcoming setting with a central fireplace, come and enjoy refined, tasty, original cuisine. In season, make the most of the terrace looking onto the pool or book one of our private lounges for your professional or family events.
Room capacity
ADSL
Climatisation
Ecran de projection
Equipement sonorisation
Micro HF (sans fil)
Ordinateur
Paperboard
Photocopieur
Téléphone en salle avec accès direct sur l'extérieur
Vidéoprojecteur
Wifi
Rates
Adult set menu
25,00
35,00
EQUIPMENTS / FACILITIES / SERVICES
Équipments
Bar / refreshment bar
Baby chair
Private car park
Lounge
Tennis court
In the surroundings
What you can find close to ...
Domaine des Portes de Sologne
à 0.08 km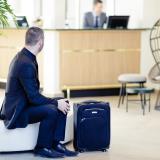 à 0.08 km
à 1.42 km
Novotel Orléans La Source
à 1.48 km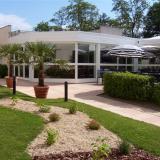 Novotel Café Orléans La Source
à 1.49 km